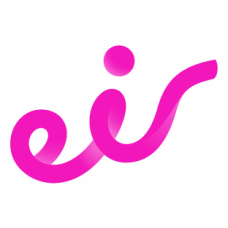 Broadband, Landline & SIM only Connect, up to 100Mb
Broadband, Landline & SIM only Connect, up to 100Mb
As the leading provider of fixed-line and mobile telecommunications services in Ireland, eir offers its customers unlimited broadband with superfast speeds. For those who need Broadband and Phone, eir has a wide range of options, which range in price according to the call package you select. All of these eir bundles come with eir Sport free, which allows you to enjoy your favourite sports. The package includes eir Sport 1 and 2 and FreeSports Channel (launching August 1st, 2019). And with the eir Sport app, you can keep up with matches even if you're on the move. Plus, if you sign up to eir broadband, you'll get free installation of eir's WiFi modem, so you can seamlessly connect multiple devices.
With eir, you can experience unlimited broadband with superfast speeds. If you sign up to eir broadband, you'll get free installation of eir's WiFi modem, so you can seamlessly connect multiple devices.
You'll also get FREE eir sport when you sign up to any eir broadband plan, so you'll be able to enjoy your favourite sports - including Premier League, Champions League, Europa League, UFC, Allianz Leagues, GAA, Golf, and F1. And, with the eir sport app, you won't miss a minute of action, even if you're on the move.
Unlimited anytime calls to Irish and UK landlines and mobiles, as well as unlimited minutes to defined international destinations.
When you switch to an eir phone plan, you can keep your existing telephone line and number in place - meaning everyone will be able to reach you on the same number as always. eir also allows you to make and receive home phone calls or from your landline via your mobile, smartphone or laptop.
Down / Up Speed
100MB / 20MB
Channels
Free eir Sport
Contract Length
6 months
Price

€59.98/month – for 12 months.

Mobile Contract Lenght - 30 Days
One off bundle activation fee

€49.99
Choose Eir Broadband and Eir Landline Today
Switching to eir
Moving to eir is much easier than you imagine. So if you are looking for unlimited superfast fibre broadband with unlimited usage allowance - for business or entertainment - you should consider our options. Moreover, there are many advantages to switching to a brand new broadband provider – such as getting faster speeds, better deals and, most importantly, saving money.
Before signing up a new deal however, it is advisable that you check your current contract. If you're no longer within the contract's minimum terms, you're free to switch. If you're still within the minimum terms, you can switch, but there will likely be a cancellation fee - and it's usually a significant one.
Having checked your contract, if you are free to move on, the next step is to work out what speed you require and what speed and service is available at your address or current line. Then consider if you need a limited or unlimited eir broadband package and what services you would like to add on – Remember that you can save money by bundling them all up together with your broadband deal.
Finally, check all the plan's features and read up the terms and conditions to make sure that you are getting the most appropriate plan for you at a good price. Pick the option that suits you best and sign up online.
TRANSITION
Keep reading to see how easy we make it for you!
To change providers without interruption in provision of a broadband service, we recommend you give us your UAN (Universal Account Number on your current provider's bill ) and your billing details when placing your order and we'll take care of all the migration details for you. With your data in hand we'll confirm your installation date within 3 working days of placing your order online. Our customer service is always available to assist you right the way through the migration process and also after you change over.
*You'll need to have eir Broadband in order to avail of eir tv
Download
100mb
Term
12 Months minimum term
Upload Speed
20MB